Distance and displacement are two quantities that may seem to mean the same thing yet have distinctly different definitions and meanings.
Distance is a scalar quantity that refers to "how much ground an object has covered" during its motion.
Displacement is a vector quantity that refers to "how far out of place an object is"; it is the object's overall change in position.
To test your understanding of this distinction, consider the motion depicted in the diagram below.
Your Best friend Shivanee walks 4 meters East, 2 meters South, 4 meters West, and finally 2 meters North.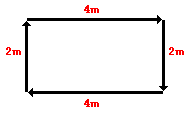 Even though Shivanee has walked a total distance of 12 meters, her displacement is 0 meters. During the course of her motion, she has "covered 12 meters of the ground" (distance = 12 m).
Yet when she is finished walking, she is not "out of place" – i.e., there is no displacement for her motion (displacement = 0 m).
Displacement, being a vector quantity, must give attention to direction.
The 4 meters east cancels the 4 meters west; and the 2 meters south cancels the 2 meters north.
Vector quantities such as displacement are direction aware. Scalar quantities such as distance are ignorant of direction. In determining the overall distance traveled by your friend Shivanee , the various directions of motion can be ignored.
A sample Problem for you 
What is the displacement of the cross-country team if they begin at the school, run 10 miles and finish back at the school?
Ans. The displacement of the runners is 0 miles. While they have covered a distance of 10 miles, they are not "out of place" or displaced. They finish where they started. Round-trip motions always have a displacement of 0.
MOTION ALONG A STRAIGHT LINE
The movement of any object from one position to another position with respect to the observer is called Motion. Motion Along a Straight Line:
When an object moves along a straight line, the motion of the object is called rectilinear motion. For example; the motion of a car on the highway.